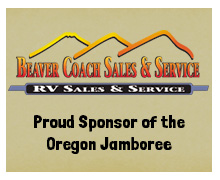 Media Credentials
Thank you, in advance, for abiding by Oregon Jamboree credential-request policies, as well as for your understanding that media credentials are limited and will be issued only to official media outlets providing timely coverage of events. It is our goal to make your job covering Oregon Jamboree events pleasant and efficient. Please contact us with any questions relating to the Credential Application: (541) 367-8800 – Teresa@OregonJamboree.com
Credentials
Media credentials will be issued only to working press, radio, TV, Internet, and photo journalists assigned to cover the Oregon Jamboree. Generic press passes or industry affiliation credentials are not good for admission or access to restricted areas. All requests for credentials and passes must be emailed at least 3 business days in advance to Oregon Jamboree Marketing Manager Teresa Stas at Teresa@OregonJamboree.com. Credentials will be placed in Will Call for approved media representatives for pick-up at event. Submission of application does not guarantee credentials. Oregon Jamboree reserves the right to approve or deny credential requests, as well as number of granted credentials. Issued credentials are non-transferable and must be accompanied by both state-issued and employer-issued identification; failure to carry both IDs is grounds for credential revocation and dismissal. If your media outlet has not previously been granted credentials to cover events at Oregon Jamboree, you must submit one current and one recent copy of your publication/production (print, CD, DVD). Working media credentials are limited and will not be issued to representatives of non-working media, including (but not limited to) representatives of the following firms: marketing, PR, promotions, sales and advertising. Do not request working-media privileges for company executives (management, publishers, officers, board members); visitors found abusing this policy will be dismissed from the event. Please submit only one application per media outlet, consolidating requests of all applicable departments (sports, news, photo, production, etc.)
Media Entrance
Media representatives must present Oregon Jamboree media credentials or regular tickets for scanning at any public gate.
Media Parking
Media representatives should park in the lot specified on the parking authorization credential. Media without a parking credential should park in any regular public pay lot.
Photographers
Video and still photographers are welcome to take pictures in any unrestricted area of the grounds. Please note that all photos taken of Jamboree Acts can only be used for the sole purpose of timely news/publicity coverage and are not to be used for any other stories or stock footage. Images of Jamboree Acts are not to be sold for any reason.
Radio-Television
Many locations on the grounds may be used as sites for radio or TV broadcasts. Please contact Teresa Stas if you need assistants with transportation, set-up and talent.
Artist Interviews
All Artist Interviews must be arranged prior to the event through Jamboree Marketing or Artist representative.