Oregon Jamboree Accepts 5-Year Anniversary Award From Oregon Veterans' Home in Lebanon
(Oregon Veteran's Home, Lebanon, Oregon) – The Oregon Jamboree of Sweet Home, Oregon, was one of three groups that accepted awards on Friday, September 20, 2019, from the Oregon Veterans' Home at the five year anniversary of the opening of the home in Lebanon, Oregon. Festival director, Robert Shamek, accepted on behalf of the event, it's board of directors, volunteers and staff.
Megan Eddy is the recreation director who has worked with a phenomenal group of ladies to make all of the fun happen for the home. In the last five years, they have developed relationships with people and groups in the community to provide for opportunities and experiences. 
"It was difficult to pick three organizations that we wanted to award," said Eddy in introducing the award recipients. 
The Oregon Jamboree was selected for providing a one-of-a-kind country music experience to the residence of the Oregon Veterans' Home. Many of the veterans want to attend the Oregon Jamboree but, due to limitations, are not be able to attend the three-day outdoor premier country music festival in Sweet Home, Oregon. Shamek stepped forward in bringing a summer concert series that has provided a total of eight musical performances over the last two years. Many artists have reached back out to perform again and have even gone above and beyond to provide one-on-one concerts for veterans unable to leave their room to attend the summer concerts. 
The Oregon Jamboree also assisted the recreation team in establishing a headliner for their third annual Fourth of July Freedom Music Festival event. 
"We are thankful and admire the folks at the Oregon Jamboree for that," continued Eddy in her announcement. "Thank you for making each summer a music filled event!"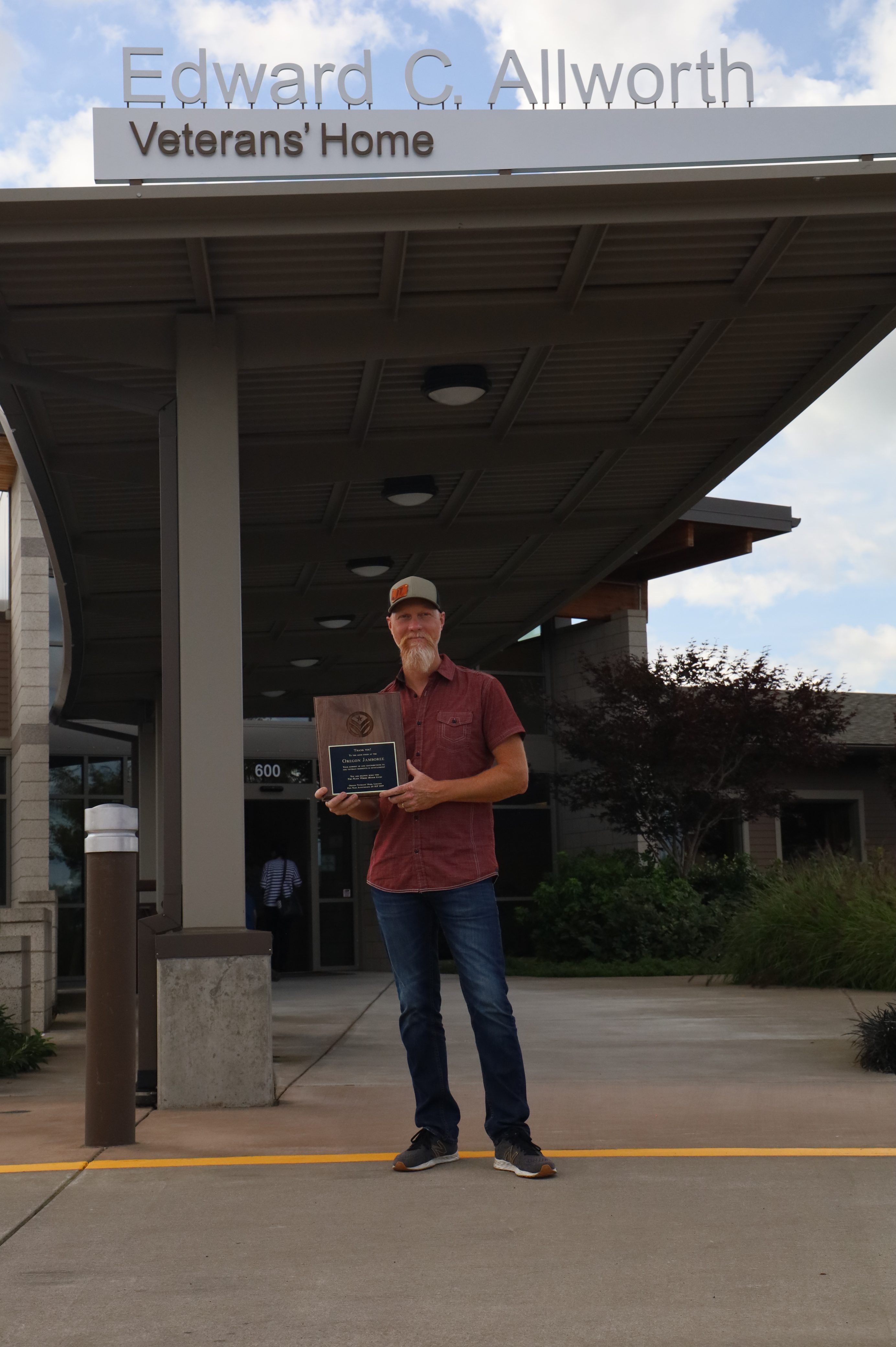 Other Award Recipients Are: 
The Oregon Elks

who brought forth the fire pit for the veterans which was the catalyst for many more generous donations from the Elks. When the Oregon Veterans' Home is in need of coffee, hearing devices, or gaming systems – they are there to fund it. The home has developed strong relationships with many, especially the Sweet Home Elks chapter. They have stepped up to fund the annual Valentines Dinner each year, but also the labor to serve the semi-formal meal. Each year, at the Fourth of July Freedom Music Festival, event hours are long with set-up and take down on the 4th of July – they are there every step of the way. Total funds donated to date exceeds $20,000. 
Quilts of Valor

is a quilting group whose mission is to cover all combat service members and veterans touched by war with comforting and healing quilts of valor. A quality made quilt, not to be mistaken as a charity quilt is quilted and awarded as a thank you for the veterans' services, sacrifices and honor during war. Working year around, they provide a new quilt every other month in an honorable ceremony including a presentation, the pledge of allegiance, and a blessing. Invites are sent to loved ones to join while they are honored. A total of 262 quilts have been given to residents over the last five years.




"I had no idea [when I met them at the grand opening of this building] how much love they would share over our campus," says Eddy. 

This is the place where honor lives. 
First veteran admitted was a marine, Mr. Donald Tubbs

First female was Michelle Francis, a post Korean War veteran

On their two-year anniversary, they admitted US Army WWII Veteran Robert Rogers, who was also the 155th admit for the first-time full house

605 total veterans and spouses served since opened

207 Army Veterans

132 Navy Veterans

54 Marines

1 Merchant Marine

4 U.S. Coast Guards

76 Air Force

7 Air Army/Air Core

131 WWII veterans; 26 still with them today

120 Korean war Veterans

188 Vietnam Veterans

11 Gulf War Veterans

54 PeaceTime Veterans

70 Spouses

15 employees when they opened in 2014 to 260 today
Don't forget to let us know how your experience was!  We love you!
Kick Off Party Promotes Community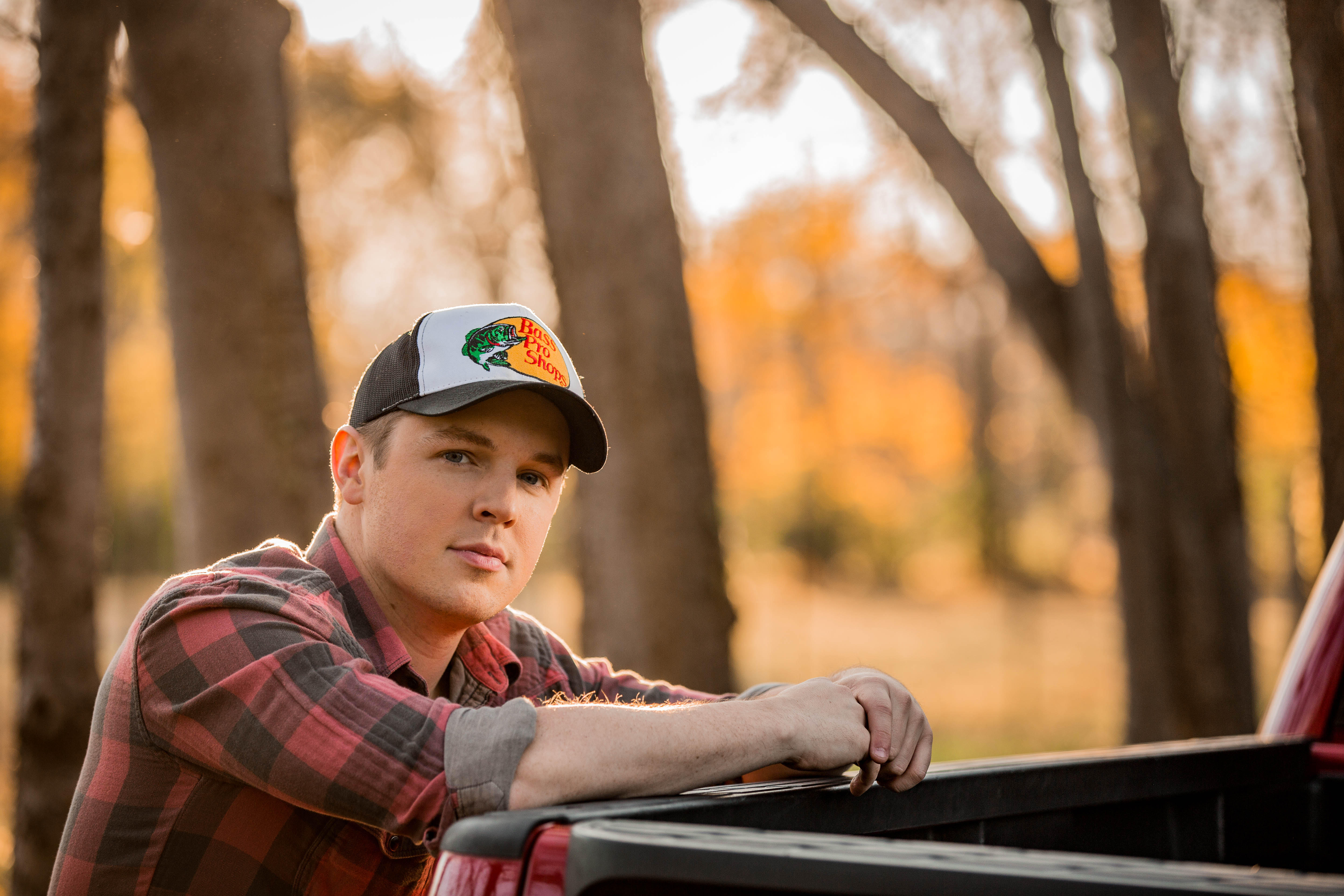 Sweet Home, Oregon (May 15, 2019) – For the past seven years the Oregon Jamboree has invited community members to join them in their annual Oregon Jamboree Kick Off Party presented by Weyerhaeuser. A free concert to the public, the event raises money for the local arts programs for Sweet Home school district.
As a 501(c)-4 non-profit, the Oregon Jamboree is an event put on by the Sweet Home Economic Development Group (SHEDG) for the last 27 years. Two stages over three days play host to 28 shows featuring some of the best country music artists in the world, as well as some of the biggest rising stars! The 2019 Oregon Jamboree is going to be no different with record high ticket sales, amazing new additions, and headliners that include Hank Williams, Jr., Scotty McCreery, Brothers Osborne, and Chris Young!
Starting Thursday night, the Oregon Jamboree wants to invite festival attendees and community members alike to join in on the free event! Headliners include Justin Lee, Travis Denning and Matt Stell – a three-part concert you won't want to miss!
"The Oregon Jamboree, its staff, board members, and volunteers are all heavily involved in the community of Sweet Home," says Robert Shamek, Festival Director for the Oregon Jamboree. "We are thankful for everyone's hard work to make this event happen and are happy to put on this event to give back to the community and community programs through the Oregon Jamboree Kick Off Party."
Justin Lee will kick off a great evening of fundraising and community building at 5:00 pm on the main gate stage! The Oregon Jamboree is excited to have Justin be a part of the event as his hometown state isn't that far away – he's a northern Nevada man! A modern country – rock sound, Justin touches the chords of rural America through his guitar and songwriting.
"If I had to choose between writing songs and playing shows, I don't know what I would choose," says Matt Stell, the second artist of the night. A true songwriter, his hit song "I Prayed For You" aligns with his belief that a song should hit home and strike a chord within you. He'll put on quite a show and we are excited to show him our community!
Travis Denning will headline the kick off party using his southern boy charisma whose unique sounds brought forward the hit radio song "David Ashley Parker from Powder Springs." A story about a young man and his adventures with his first fake I.D., his storytelling and songwriting skills show that this young country star isn't going to go away any time soon if he keeps writing like this!
Safeway will be presenting, through the Oregon Jamboree a $5,000 donation to the Sweet Home Community Foundation – join us in celebrating this moment and our community on August 1, 2019 at the Oregon Jamboree Kick Off Party presented by Weyerhaeuser.
Tickets and camping are available online at www.oregonjamboree.com/tickets, where you can also find out more on how to be a part of the 2019 festival as a sponsor or volunteer.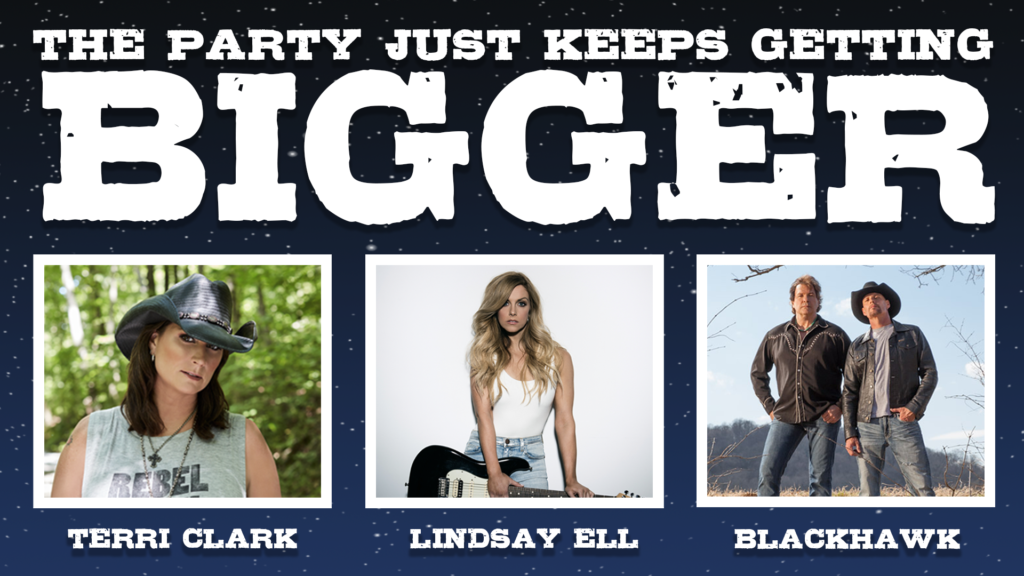 ARTIST ANNOUNCEMENT
The party just keeps getting BIGGER! We're so excited to announce some more of our amazing supporting artists for the 2019 Oregon Jamboree! Terri Clark, Lindsay Ell, and BlackHawk are joining the Jamboree lineup! 🤠
Stay Tuned for more artist announcements!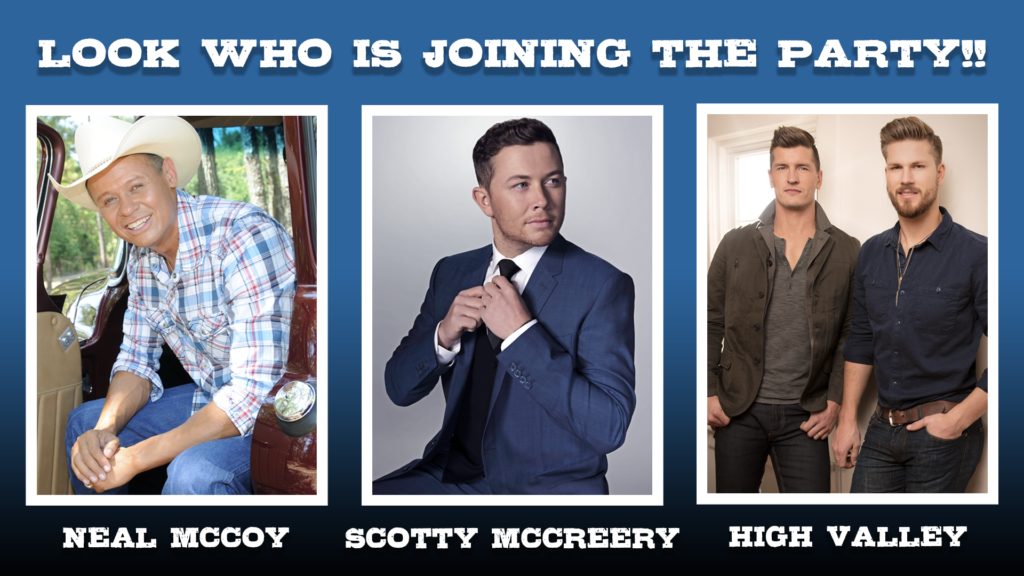 ARTIST ANNOUNCEMENT
We're excited to announce Scotty McCreery, Neal McCoy, and High Valley as supporting artists for the 2019 Oregon Jamboree! They join previously announced headliners, Brothers Osborne. Stay tuned for more artists announcements coming soon!
Ya'll ready to party in 2019?!