WRISTBAND & CREDIT CARD REGISTRATION OPEN IN JULY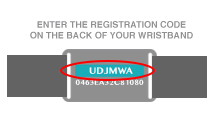 Only one wristband can be registered per email account.

Camping passes do not need to be registered.

Place your wristband on your EITHER WRIST before you arrive to the show.

If you purchased camping or parking, place your pass on your dashboard.

Click here for assistance with registration.

By registering, you agree to the Oregon Jamboree policies.

After registering your wrist band, add your credit card HERE. 
NEED MORE INFO ON WRISTBANDS?
This year, due to COVID-19 policies, we are making every effort to comply with requirements to be a contactless festival. It has been determined that the best way to avoid lines is to send out RFID wristbands in lieu of emailing tickets. Once you get your RFID wristband, you will register your own credit card with your wristband and use that wristband for on-site purchases for food, beverages, merchandise and vendors instead of our typical scrip.
We will start shipping festival passes to the address we have on file for your order, starting the week of June 28th. If your pass is returned to us, we will hold it at the Festival Will Call for you. Please have a government issues photo ID to pick it up. 
If you do not receive your wristbands or premium parking vouchers by Friday, July 9th, please contact us at Info@OregonJamboree.com / BoxOffice@OregonJamboree.com or 541-367-8800. In the event that your package is returned to the Oregon Jamboree, you will be able to pick up your wristbands and parking vouchers at the onsite Will Call booth during the Oregon Jamboree.
Know that if you ever have questions—We are only an email away.